Community Legal Centres Queensland is delivering a Disaster Resilience and Capacity Building Project to support the knowledge and capability of our members to deliver targeted and place-based legal support across all phases of the disaster cycle.    
A well-resourced and well-prepared community legal sector can help the communities they serve, and strengthen their organisational readiness for future climate disasters.   
Learn more about our project offerings: 
This information is provided under the Disaster Resilience and Capacity Building Project led by Community Legal Centres Queensland, and jointly funded by Queensland Reconstruction Authority and the Commonwealth government. 
Disaster Resilience and Capacity Building
Climate disasters and legal problems 
Queensland is the most disaster-prone state in Australia, and climate disasters create many legal problems. As climate change intensifies, Queensland will experience more frequent extreme weather events which will result in more people requiring legal help.  
After a disaster, community legal centres often assist people with problems related to housing, employment, social security, credit and bankruptcy, and insurance matters. Other frequent problems include family law, and domestic and family violence. Community legal centres also help people to navigate complex administrative arrangements so that they can access post-disaster government payments and benefits.  
Climate change impacts are widespread, and growing 
The impacts of climate change are far more widespread than floods, bushfires, cyclones and storms. Climate change affects us in less obvious ways such as worsening air pollution, heatwaves, a deteriorating natural environment, species extinction, drought, sea level rise, coastal erosion, food insecurity, and higher costs of living. Climate change also harms our mental and physical health.   
These 'hidden' issues also generate legal problems that community legal centres assist with.  
Climate change requires climate and disaster justice  
Climate change does not affect everyone equally. People and communities with the least ability to cope, adapt and recover from climate change impacts are often the most affected. Climate change exacerbates inequality across our legal, social, economic, and political systems. 
Queensland's 32 community legal centres deliver justice for people on low or no incomes. Our sector helps clients at risk of climate harm because of structural and place-based inequities like racism, classism, ableism, ageism, geographic remoteness, and social isolation. Our sector's deep expertise in access to justice and community lawyering means we know that climate change adaptation and disaster responses must be equitable, fair, non-discriminatory, and human rights-respecting.  
Many climate change impacts set to occur in Queensland are already 'locked in'. While we must do everything possible to reduce current and future greenhouse gas emissions, we also need to work strategically to transform how we live, and to prepare our communities to adapt to a changing climate. This includes making sure that our laws and policies are 'climate ready' and can protect people who are most at risk of climate harm.  
First Nations wisdom and expertise  
First Nations perspectives must be at the heart of our work in climate adaptation and disaster justice. Aboriginal and Torres Strait Islander peoples have unique cultural rights, knowledge, and wisdom about adapting to a changing climate, and caring for Country.  
Climate disasters harm First Nations peoples in ways that are different to non-Indigenous peoples. Disasters can result in experiences of non-material grief and loss that are very profound. Connection to Country is a deep relationship to the lands, seas, skies and all the living things, including plants and animals that provide a sense of belonging and is part of an identity. Damage to Country from climate disasters equates to damage to self and to the spirit; when Country is harmed, so is the self. This is especially harmful because First Nations peoples have contributed the least to climate change, yet they bear the full spiritual force of its impacts.  
Resources for Community Legal Centres
Disasters are the ultimate stress test for organisational risk planning and management. 
Disasters not only cause service disruption for clients, they can also threaten the workplace safety and wellbeing of staff and volunteers.  
As the frequency and intensity of climate change events increases in the coming years, the resilience of our workplaces to withstand climate shocks is now more important than ever.  
This Climate Resilience and Adaptive Capacity Checklist CLCQ Climate Resilience Checklist.docx is a good starting point for CLC organisational risk planning and management for disaster resilience.  It is a self-reflection tool designed to help community legal centre staff and management consider their organisational resilience.  
Community legal centres can also access many free, online toolkits to help measure and assess their resilience to climate change, disasters and emergencies. The following tools have been developed specifically for the community services sector: 
Small business toolkits also contain useful information for a community legal centre context: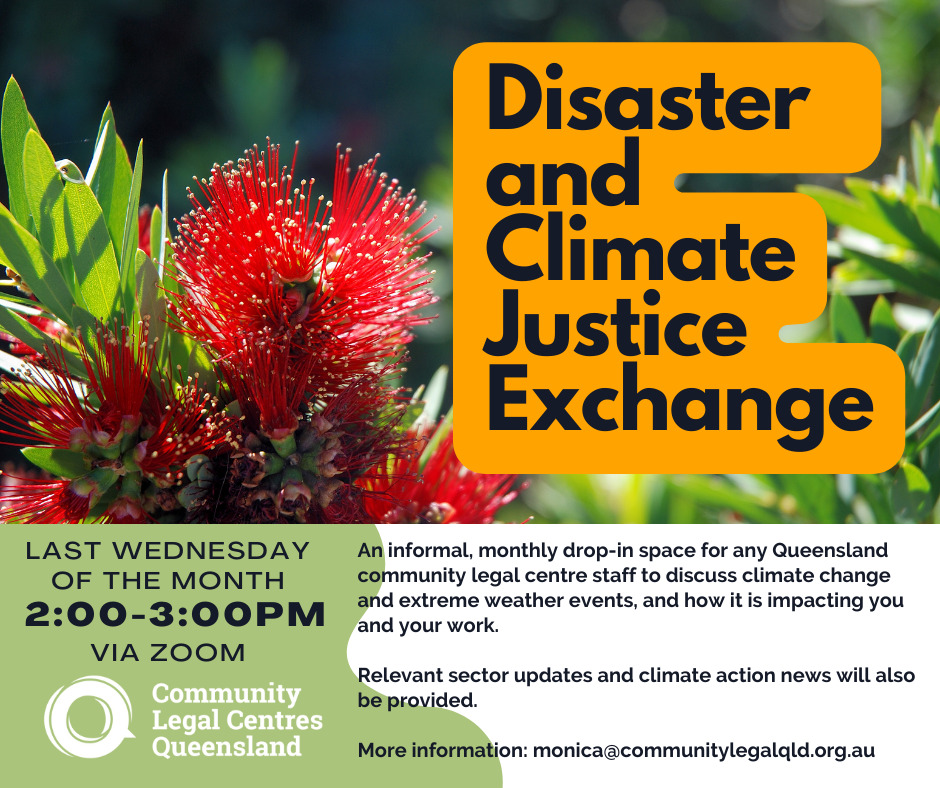 Join CLC colleagues on the last Wednesday of each month to discuss climate change and disasters, and how they are impacting your work.
This is an informal CLC-only space to connect, build networks, and deepen our understanding of disaster and climate justice. We'd love to see you in the room, and please spread the word!
Any questions or queries, please reach out to Monica monica@communitylegalqld.org.au